Rachel Worked in Several Architectural Firms Before Starting Her Own Business: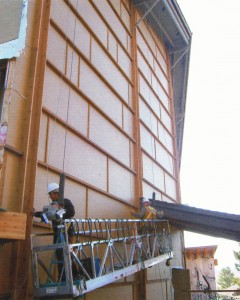 As Project Lead at BERLIN ARCHITECTS, Rachel took pride in the $5 M WALK FESTIVAL HALL RENOVATION.  We designed a shell of Structural Insulated Panels to insulate this acoustical gem from heat loss and noise infiltration.  We added dramatic glass vestibules to further seal the building and provide a playful look.  A large board of directors, updated ADA and fire requirements, limited construction shoulder seasons, and a rather peculiar existing structure from 1974 together made this project complex and challenging.  Working closely to understand the contractor's needs, we brought the project in ahead of schedule and under budget.  Larry Berlin's client, the GRAND TETON MUSIC FESTIVAL, was able to increase their scope to include a covered concession, restroom expansion, and extensive interior remodel.
As Consulting Architect, Rachel fleshed out working drawings for the SHOOTING STAR CABINS at the Base of Teton Village, in conjunction with Big-D Construction.  Paul Bertelli, Principal at JLF Architects, Bozeman Montana, was Lead Designer.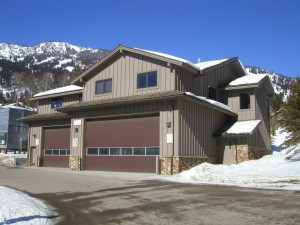 Commercial and institutional work at PLAN/ ONE ARCHITECTS, Wyoming's  largest firm, was good preparation for responsible professional licensure.  She managed the BIG HORN FEDERAL BANK in Lovell, developing a full C.D. set with specifications, fee analysis, code study, and specialty equipment.  Construction administration for of the School District's Vehicle Maintenance Facility, Teton Village Fire House (Pictured Right) and the $8.5M Jackson Hole Mountain Resort Operations Facility, where difficult soil conditions in seismic zone 3 demanded a non-conventional foundation system. Unusual mechanical and civil requirements, such as winch cat lifts and high volume storm drainage, as well as the complex politics of a developer financed, mixed use project, governed by various entities made these last two assignments uniquely challenging.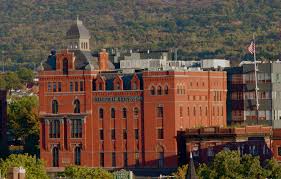 Talented staff at the Wilkes-Barre office of BOHLIN CYWINSKI JACKSON instilled a sensibility for detailing which is structurally & materially expressive.  Rachel worked with Peter Bohlin's design team on the LINARD RESIDENCE.  This 13,000 s.f. project, published in Architectural Digest and GA Houses #59, is situated at the base of Hawk Mountain Sanctuary, in New Ringgold, Pennsylvania.  As an Intern, she drafted plans, sections, elevations, mill-work, detailed custom courtyard window walls, and built sectional study models.  Also at BCJ, The USGS Stegmaier Brewery Renovation was a rewarding civic project, as part of an effort to uplift the economy of a post-coal era town.  Rachel had a large hand in the Tower remodel, skylight installation, and Congressional Office fit-out (pictured left)
During an internship with Stephen Dynia, Rachel worked extensively on the dynamic roofs and sculpted fire places of the HUNT HOUSE.